Click here to view original web page at www.lancasterfarming.com
Westend61 Grilled Mushrooms 1/2 pound whole fresh mushrooms (medium size works best) 1/4 cup butter, melted 1/2 teaspoon dill weed 1/2 teaspoon garlic salt Thread mushrooms onto skewers. Combine butter, dill and garlic salt; brush over mushrooms. Grill over hot heat for 10-15 minutes. Yields: 4 servings Recipe by […]
Click here to view original web page at www.lancasterfarming.com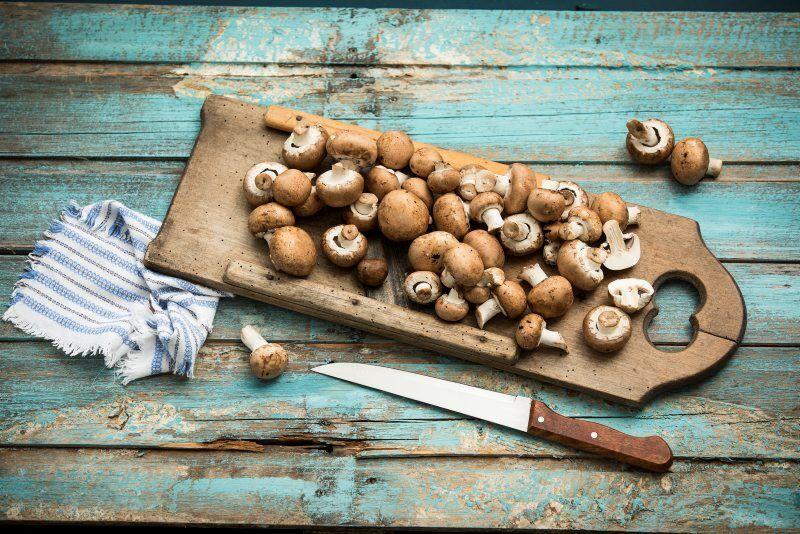 Grilled Mushrooms
1/2 pound whole fresh mushrooms (medium size works best)
1/4 cup butter, melted
1/2 teaspoon dill weed
1/2 teaspoon garlic salt
Thread mushrooms onto skewers. Combine butter, dill and garlic salt; brush over mushrooms. Grill over hot heat for 10-15 minutes.
Yields: 4 servings
Recipe by J. Zimmerman, Roaring Spring, Pennsylvania
Easy Mushroom Soup
3 tablespoons unsalted butter
2 garlic cloves, minced
1 shallot, finely chopped
4 ounces crimini mushrooms, chopped
4 ounces white button mushrooms, chopped
2 tablespoons flour
3 cups chicken stock
1/4 teaspoon fine sea salt, or to taste
1/4 teaspoon ground pepper, or to taste
Sliced sautéed mushrooms for garnish, optional
Chopped parsley for garnish, optional
Melt 2 tablespoons butter in a large pot over medium-high heat. Add garlic and shallot, cook for 1 minute until they begin to soften. Add mushrooms and cook for about 3 minutes, until tender and browned. Transfer contents of the pot to a bowl and set aside,
Add the remaining 1 tablespoon of butter to the pot. Once melted, sprinkle in flour and whisk it into a paste. Reduce heat to medium. Add stock a little at a time, whisking out the clumps between each addition.
Increase heat back to medium-high and allow the soup to simmer well for 3 minutes. Add the mushroom mixture back to the pot and continue to cook for 2 more minutes. The stock will thicken slightly and be somewhat creamy.
Let cook for 3 to 4 minutes, then ladle into bowls. Garnish with mushrooms and parsley, if desired.
Classic Stuffed Mushrooms
16 ounces white button mushrooms (about 14 larger mushrooms)
1/2 pound pork or turkey sausage
4 ounces cream cheese, softened
1/4 cup panko breadcrumbs
2 tablespoons freshly grated Parmesan cheese
1/4 teaspoon fine sea salt
Chopped basil leaves, for garnish
Remove mushroom stems and pulse in food processor until finely chopped or finely chop by hand. Spray a baking dish large enough to hold all the mushrooms (about 8x10 inches) with non-stick cooking spray. Place mushroom caps upside down in a baking dish.
Cook the chopped mushrooms and sausage in a large skillet over medium-high heat until the meat is no longer pink, about 7 minutes. Break it up into small pieces as it cooks. Reduce heat to medium and stir in cream cheese until melted, about 2 minutes. Add panko breadcrumbs and remove skillet from the heat.
Stir until all ingredients are combined. Add 1 tablespoon Parmesan and the salt. Stir well. Let sit until cool enough to handle.
Preheat the oven to 375 F. Fill each mushroom cap with an equal amount of the sausage stuffing, mounding it high over the mushroom. Bake for 25 minutes, until the filling is bubbly and the mushrooms are tender.
Sprinkle remaining 1 tablespoon of Parmesan over the mushrooms just as you pull them out of the oven. Garnish with basil before serving.
One-Pan Chicken and Mushrooms
1/2 cup flour
1/2 teaspoon salt
1/4 teaspoon pepper
1 teaspoon oregano
1/2 teaspoon thyme
1-1/2 pounds chicken breast or tenders
3 teaspoons olive oil
2 onions, sliced
4 cloves garlic, minced
12 ounces crimini and white mushrooms, sliced
1/2 cup chicken broth
1 tablespoon lemon juice
Parsley for garnish
Mix flour with salt, pepper, oregano and thyme. Dip chicken pieces in the flour mixture and set aside.
Heat 2 tablespoons olive oil in a pan and sear the chicken on both sides until golden. Remove the chicken.
Add remaining olive oil and sauté onion until soft. Add the garlic and mushrooms. Cook until mushrooms are browned. Add salt, pepper and chicken broth and top with the chicken. Simmer until the chicken is cooked through.
Add lemon juice and parsley. Serve warm.
Chicken & Dumplings with Mushrooms
1 tablespoon olive oil
1 onion, diced
3 carrots, diced
2 sticks celery, chopped
2 cups assorted mushrooms (baby bella, shiitake, etc.)
6 cups chicken stock
2-3 sprigs of fresh thyme
1 rotisserie chicken, skin and bones removed and shredded
1-1/2 cups flour
2 teaspoons baking powder
Salt and pepper, to taste
3/4 cup milk
1 egg
2 tablespoons melted butter
Italian parsley, chopped, to garnish
In a large Dutch oven over medium high heat, warm the olive oil. Add onion, carrots, celery and a large pinch of salt and pepper. Cook 2-3 minutes or until vegetables just start to soften. Add mushrooms and continue to cook until soft.
Pour chicken broth over vegetables and add sprigs of thyme and shredded chicken. Simmer uncovered.
In a large bowl, whisk together flour, baking powder and a pinch of salt and pepper. In another small bowl combine milk and egg. Add wet ingredients to the dry ingredients and mix until just barely combined. Fold in melted butter.
Use an ice cream scoop to scoop the batter into the chicken soup, leaving as much space around the dumplings as possible, as they will puff up.
Cover the pot and cook for 18-20 minutes over low heat or until the dumplings are cooked through. Ladle into bowls and garnish with parsley.